If you're on the hunt for a versatile, chic dress that you can dress up or down for any occasion, look no further than our V-Neck Plain Maxi Dress. This dress is perfect for everything from casual lunches to formal events.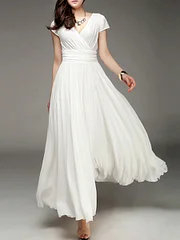 The v-neckline adds a touch of femininity without being too revealing, and the maxi length creates an elegant and sophisticated silhouette. Plus, the simple plain design means that you can easily dress it up or down with accessories, jackets, or shoes.
Made from soft and breathable fabric, this dress will keep you comfortable all day or night long. And because it's available in a variety of colors, you can choose the one that best fits your style and personality.
For a more casual look, pair this dress with sandals and a denim jacket. Or, dress it up with statement jewelry and a pair of heels for a formal event. You'll never run out of ways to wear this versatile piece!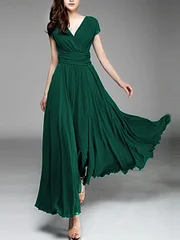 In conclusion, the V-Neck Plain Maxi Dress is a must-have for every wardrobe. With its effortless chic style and endless possibilities for dressing up or down, it's a dress that will take you from day to night with ease. So add it to your collection today and enjoy the easy elegance it brings to your wardrobe!