Looking for a dress that embodies femininity and elegance? Look no further than our Round Neck Patchwork Lace Maxi Dress! This stunning dress is perfect for any occasion, from a summer wedding to a special dinner date.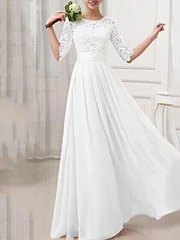 The patchwork lace design adds the perfect touch of romance and sophistication, while the round neck and maxi length create a flattering and timeless silhouette. The dress is also lined with soft and breathable fabric to ensure you stay comfortable all day or night long.
Accessorize with simple jewelry and a pair of strappy sandals for a breezy summer look, or opt for heels and statement earrings for a more formal event. However you wear it, this dress is sure to turn heads and make you feel beautiful.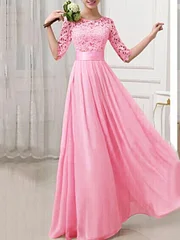 To care for this delicate dress, simply hand wash it in cold water and lay it flat to dry. And with its timeless design, you'll be able to wear it for years to come.
In conclusion, the Round Neck Patchwork Lace Maxi Dress is a must-have for any fashion-forward woman looking to add a touch of feminine elegance to their wardrobe. So why wait? Add this dress to your collection today and embrace the beauty and grace it brings to your style.